It's a challenging proposition to put into words the brilliance and beauty of Baja California Sur. The southern half of the 775-mile-long Baja California Peninsula that stretches from the U.S.-Mexico border and into the Pacific is a natural wonder.

A mix of mountain ranges and desert and coastal plains, the landscape features stunning vistas, rugged expanses, and otherworldly coastlines featuring breathtaking cliffs and intricately contoured beaches. In tandem, they conspire to create a unique oceanfront paradise.

In simpler terms, Baja California Sur is an exceptional location to own vacation property.

Though, as one might expect, the real estate on hand is equally as diverse and extraordinary as the land on which it sits. Although a wonderful problem to have, it makes choosing which home is right for you considerably more difficult.

But knowing what awaits you in each of Baja Sur's most sought-after communities goes a long way in helping to guide you towards the best home for your short and long-term real estate goals. With that in mind, let's take an inside look at vacation properties in four Baja California Sur communities.
Cabo San Lucas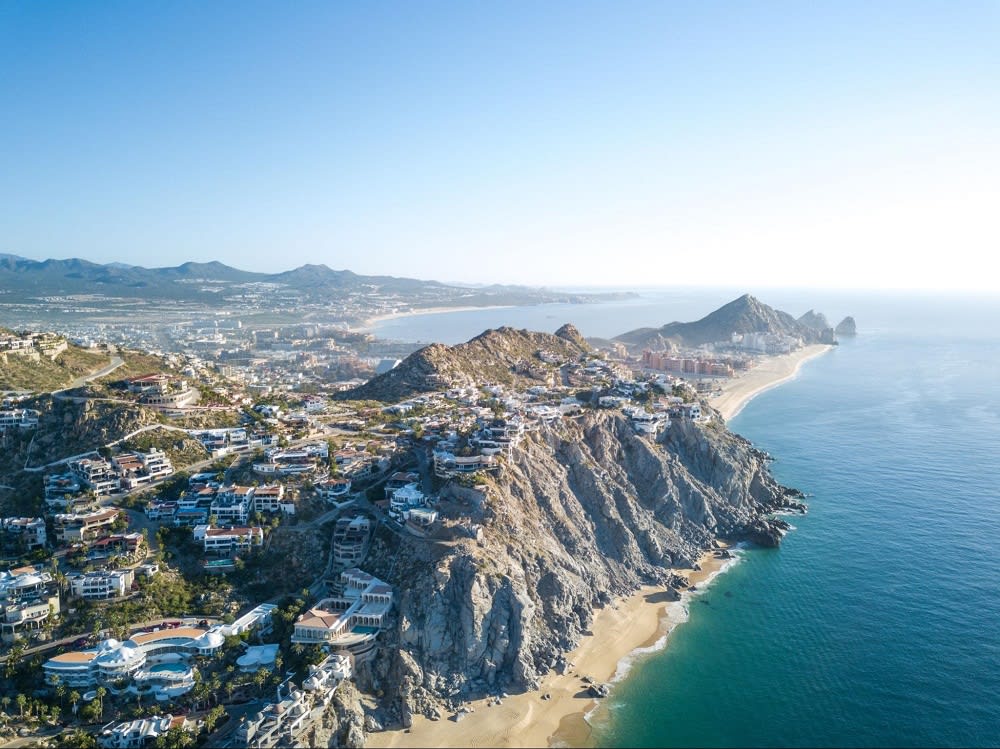 As the premier destination in Las Cabos and arguably the whole of Baja California, Cabo San Lucas has long been the preferred destination for travelers and vacation home buyers. Beautiful beaches, outstanding dining, shopping, entertainment, and an endless array of outdoor pursuits both on and off the water are attractions that keep people coming back. There are also 16 golf courses, a handful of which are internationally acclaimed.

With that roster of attractions, and the presence of the Los Cabos International Airport, Cabo San Lucas remains one of America's top destinations. Even with massive development projects popping up across the region (see East Cape, below), the demand for properties of all forms never wanes at the southernmost tip of Baja Sur.

Communities and vacation homes cover the spectrum. High-end condos are the most prevalent and are always in high demand. The most luxurious low-maintenance options are in the Cabo Tourist Corridor, the 20-mile stretch of coastline between Cabo San Lucas and San Jose del Cabo. Many of these are full ownership opportunities. They range from 3,500 to 5,000 square feet and typically fetch around $5 million in the current market.
Cabo San Lucas and the corridor also offer plenty of full ownership opportunities for single-family homes. From move-in-ready custom-built properties to luxury residences attached to one of the region's many luxe resorts. Favorite communities include
Pedregal de Cabo San Lucas
, Cabo Bello, Diamante and Quivira.

Despite Cabo San Lucas' rapid growth over the past two and a half decades, vacant land for individual homes or more significant developments remains available. Most resort communities, particularly those tied to a specific high-end hotel chain, often maintain a healthy inventory of ready-to-build homesites.
East Cape
Stretching for approximately 100 miles along the eastern coastline of Las Cabos, from in the north to Los Barriles down to the coastal communities just to the east of San Jose Del Cabo, the East Cape is a collection of stark and stunning landscapes. The Sierra de la Laguna Mountains frame the region to the northwest and look out over the romanticized, ultramarine waters of the Sea of Cortez.

The region has quickly become a favorite landing spot for vacationers and second-home buyers for reasons well beyond the Cape's coastal beauty. For starters, there is plenty of room to roam. A large swath of the newest completions are properties attached to high-end luxury hotels, meaning owners and their guests gain access to the legion of upscale amenities.

Development is only scratching the surface of what's achievable in this area of Las Cabos. Opportunity abounds, and it could be many years before the area approaches anything resembling crowded.

Investment-minded buyers should be aware that even with the extensive development, there's considerable opportunity up and down the East Cape. Prime lots are available for development should they prove attractive for your long-term investment strategy.
Two regions worth keeping an eye on if you're not already actively looking to get a foothold in this market include
Los Barriles
and
La Ribera.
With a quiet population of fewer than 5,000, Los Barriles is known for its relaxed, laid-back way of life. Due to industries such as wind sports, fishing, and tourism, Los Barriles draws a significant population of ex-pats and has a widely English-speaking population. Thanks to the rural vibes, history, and culture the city has to offer, Los Barriles has a wealth of opportunities for excursions.

The area in and around La Ribera is booming. Much of the activity revolves around the 1,000-acre Costa Palmas community development. Four Seasons Resort established their first Las Cabos property within the Costa Palmas project, along two miles of pristine white beaches and a swimmable Sea of Cortez shoreline. The hotel's sizable residential component includes access to the resort's amenities.

Costa Palmas also features resort and residential components from Aman, a development called Amanvari. The community features a host of activities, including golf at the 18-hole Robert Trent Jones II-designed Costa Palmas Golf Club, snorkeling, swimming, fishing, inland excursions, and a 250-slip marina that can accommodate numerous size yachts and watercraft.

Price ranges for already established homes run from $2.5 million to $5 million at the low end of the scale to the north of $20 million for larger residences and vacant lots fronting the sea. Marina lots are currently commanding from $1 million to $2 million-plus.

Beyond Costa Palmas, real estate in and around La Ribera remains attractive and considerably more economical. Multi-acre development lots are available, as well as smaller, individual parcels. Currently, there's even an opportunity to invest in a nearly 12-acre food forest.

The development activity is quieter north of La Ribera. The area around Los Barriles presents excellent investment potential on turnkey and renovation-ready properties.
San Jose del Cabo
Situated 20 miles to the northeast of Cabo San Lucas, San Jose del Cabo is the unofficial dividing line between its well-established western neighbor and the rapidly expanding East Cape. In fact, San Jose del Cabo is technically part of the East Cape, overlooking the point where the Pacific Ocean unites with the Sea of Cortez. But the simplification would deny recognition of this city's own brand of spectacular.

Its history dates back to the early 1700s and is visible throughout the streets and in the well-preserved landmarks scattered throughout the area. Although San Jose del Cabo shares the Tourist Corridor with Cabo San Lucas, it's commonly seen as the more authentic of the two—a more chic, artistic enclave than a tourist destination. It's also less remote and more developed than other East Cape communities further up the coast.

In other words, San Jose del Cabo provides a best of both worlds scenario. It's perfect for those who want to keep the busyness of coastal resort life at arm's length while remaining firmly planted in civilization.

San Jose del Cabo communities reflect the mindset since many of the most notable offer a luxurious "remote" lifestyle just minutes from the city center. They also feature predominantly single-family home styles, including grand, stately villas overlooking the coast. Including Cabo Colorado, Campestre, Palmilla, Puerto Los Cabos, Querencia and Rancho Cerro Colorado, San Jose del Cabo boasts many of more sought-after destinations in Baja Sur.

As you near the outskirts of the city heading north from Cabo San Lucas, much of the real estate commands eight figures. The prices are easily justifiable with massive homes, ultra-luxe amenities, and some of the most jaw-dropping views in Mexico. Even the modest luxury residences generate offers from seven to $10 million and smaller but no less spectacular Casitas draw values from $2.5 million to $6 million.
Todos Santos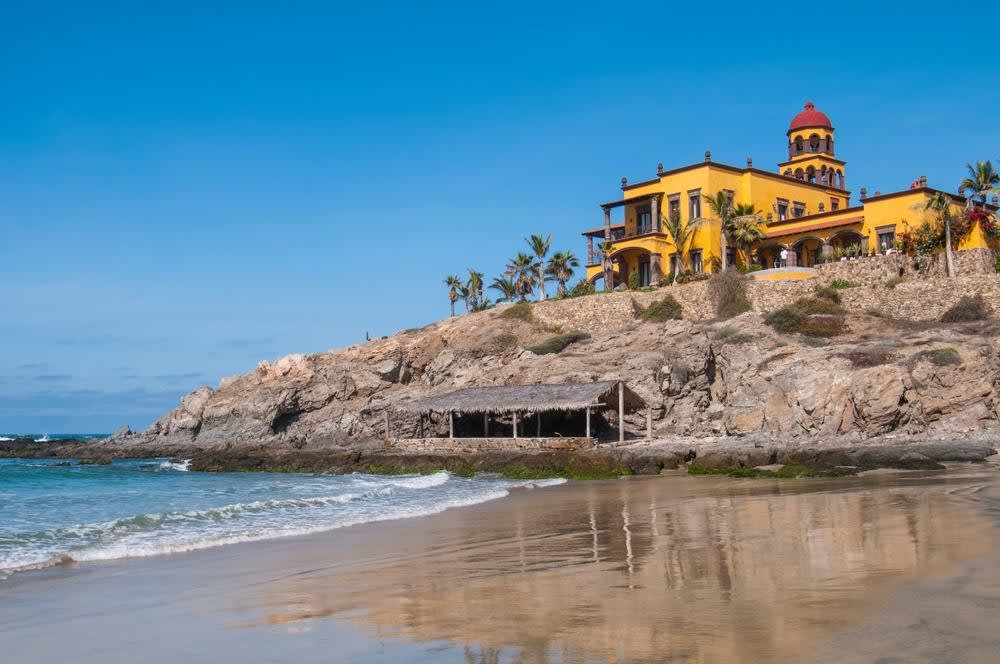 Located approximately 50 miles north of Cabo San Lucas and an hour to the southwest of La Paz, Todos Santos is a Pacific Coast enclave notable for its serenity, seclusion, and natural beauty. Part of the La Paz municipality, the area was a favorite landing spot for artists for many years. There are numerous galleries throughout town, as it remains an active artist enclave. Its popularity with tourists and homebuyers has increased over the past two decades.

As a result, development has also increased, owing to Todos Santos' status as an alternative to the more frequented Cabo San Lucas. Those seeking an upscale, luxury lifestyle, whether through permanent relocation or vacation investment, will appreciate the area's high-end shopping, dining, and restoration efforts.

Available Todos Santos real estate meets numerous needs. Large, architecturally significant homes overlooking the coast are the showstoppers, others fetching from $800,000 USD to more than $4 million. For those with an eye toward development, the land is readily available. Everything from multimillion-dollar parcels that walk out to the Pacific to interior and in-town lots has potential for the creative buyer. Vacant land in this region of La Paz varies greatly, with interior lots priced from $43,000 to coastal or development-ready parcels going for $3 million or more.
La Paz
Located approximately 50 miles north of Todos Santos is the capital of Baja California Sur and its most populous city, La Paz. considered the gateway to the Sea of Cortez, this stunning destination is a favorite of nature and adventure lovers alike, who traverse through the city's tropic desert landscape across magnificent dunes, dive with sea lions off the Bay of La Paz, and swim beside whale sharks. An incredible locale that is a very popular spot for eco-tourism, the local population and economy have been booming since the early 2000s.

If you want to spend your days in the economic hub of Baja California Sur exploring the beautiful boardwalk, the seaside balnearios, and the numerous islands, inlets, and coastal hideaways, La Paz is truly the best of sea-meets-desert living. The area is replete with gorgeous beachfront homes with unobstructed views of the sea, tucked away mansions backdropped by the gently slopping dunes, and large parcels of land jutting out into the water just waiting to be developed into your dream home or vacation property.
Favorite communities include
Pedregal de La Paz
with available lots starting at $200,000 USD to gorgeous, sprawling multi-bedroom and bathroom estates fetching anywhere from $1 million to $3.5 million, La Paz's homes and vacant land demand a pretty penny—and it's not hard to see why. For the absolute best of the best of Baja living surrounded by the lap of luxury and the (literal) lapping of the pristine Sea of Cortez, why not visit the capital of this beautiful state and start your search?
Find your Baja real estate investment.
Are you ready to leap into the world of refined elegance and a blissful oceanfront lifestyle on the Baja California Sur Peninsula?
Contact the Coldwell Banker Riveras team today
to assist you in navigating your vacation home buying journey.

From Los Cabos to La Paz homes for sale, allow the experience and expertise of our family of real estate professionals to be your guide to the Baja real estate market.