Los Cabos and La Paz have long been considered two of the most luxurious places to vacation, let alone call home. With incredible views of the ocean, first-rate amenities, and impeccable villas, Los Cabos and La Paz offer newcomers a host of private residential communities to belong to. If you're considering a move to Baja California Sur, take time to get to know the local communities. Discover what's available near each and what kind of properties you could invest in. If you're unsure where to start, use this guide to some of the top options in the area. From sweeping estates to modern haciendas and beachside villas, these private communities have it all.
Pedregal de Cabo San Lucas

Photo courtesy of Pedregal de Cabo San Lucas
The waterfront community of Pedregal de Cabo San Lucas sits at the southern tip of Baja California Sur. Designed with expert attention to detail, Pedregal is one of the most luxurious Los Cabos villas, with cobblestone paths and pristine beaches. The community has been part of Los Cabos for decades and has retained its reputation for luxury and leisure. Condos for sale in Pedregal are modern and updated, featuring floor-to-ceiling windows, bright interiors, and open layouts. Minutes from downtown Cabo San Lucas, Pedregal is a gorgeous private community for anyone looking to own Los Cabos real estate.
Cabo del Sol
One of the most popular neighborhoods in Los Cabos, Cabo del Sol is the epitome of resort-style living by the water. Residents can pursue membership at the coveted Cove Club Course and Desert Course at the Cabo del Sol Golf Club. A Jack Nicklaus course, the Cove Club has been a feature of the community since 1994. Cabo del Sol, with its stunning condominiums and stand-alone homes, is a picture of tropical island beauty. Residents can take part in the exclusive Cove Club to gain access to a private beach club, the La Montaña adventure park, and the spacious Clubhouse patio.
Palmilla
Los Cabos villas don't come much more luxurious than those at Palmilla. Properties at Palmilla exemplify indoor-outdoor living, giving residents an immersive, unforgettable experience. Homes for sale near Palmilla are minutes from top golf courses like Querencia and the Palmilla Golf Club. Some of Baja California Sur's best beaches await as well, whether locals decide to spend the afternoon at Playa Palmilla, Playa Acapulquito, or Costa Azul. Homes throughout the neighborhood are intentionally crafted to blend nicely with their natural surroundings. Spanish hacienda-style homes are common and create a lasting sense of luxury and relaxation.
Puerto Los Cabos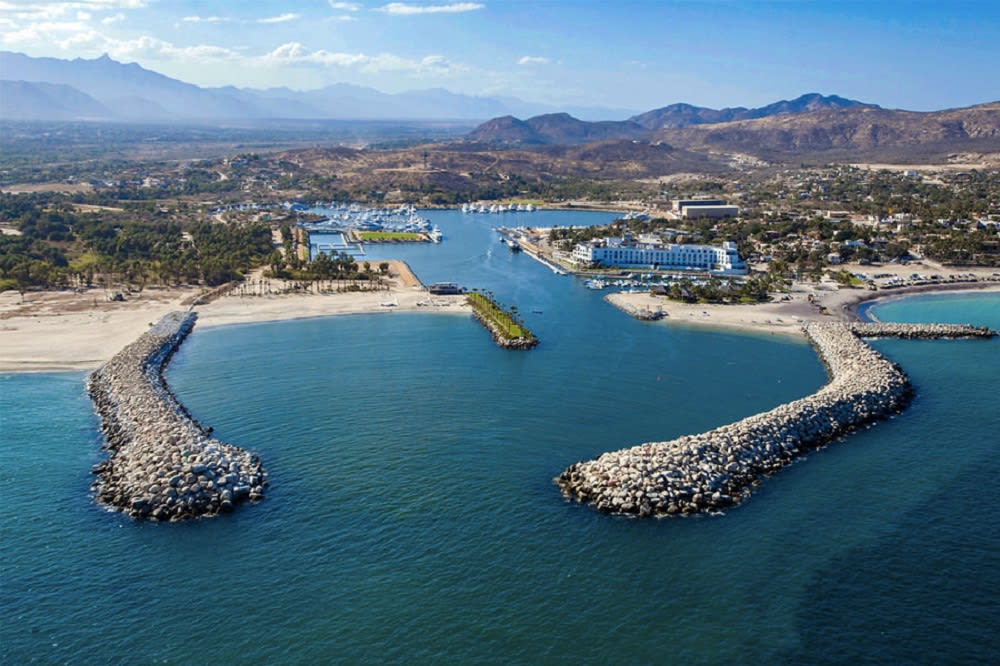 Photo courtesy of Puerto Los Cabos
Not far from Palmilla is Puerto Los Cabos, where residents can make the most of their waterfront access and a charming town center. The 2,000-acre community is carefully planned to provide a second-to-none resort-style experience for its guests and residents. Five minutes from San Jose del Cabo and home to a sizable marina, Puerto Los Cabos is one of Mexico's top communities. The marina offers full services for residents who keep their boats docked there. Puerto Los Cabos also has its own golf resort, with an 18-hole Jack Nicklaus course and a 9-hole Greg Norman course. Whether they're after a turn-key home or a lot on which to build their own, buyers can find options in Puerto Los Cabos. Single-family homes and condominiums are available in the Enclaves, Puerto Los Cabos' residential neighborhood, which features beautifully designed homes and Ritz-Carlton amenities.
La Paz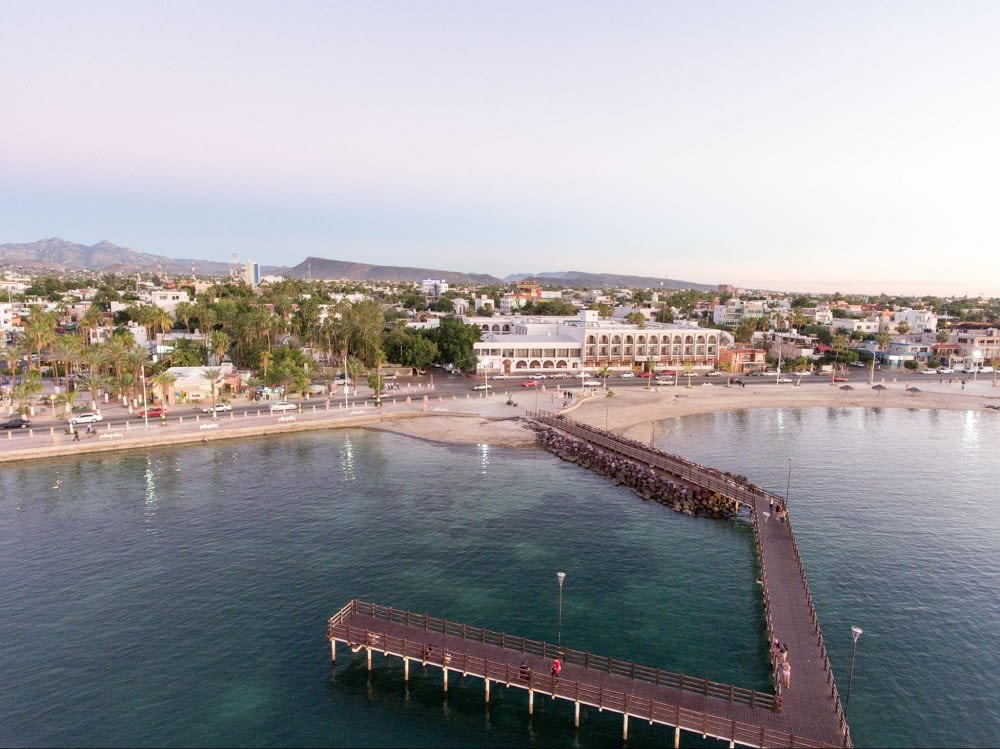 La Paz is the bustling capital city of Baja California Sur, and its downtown core is truly a delight. From sweeping Mediterranean estates to modern condominiums, La Paz real estate takes luxury living to another level. La Paz has all the amenities and energy of a dense urban area, with peaceful spots to unwind, like the Paraiso del Mar golf course. Residents dine at top restaurants like Sorstis and Las Tres Virgenes or boat around the inlet.
Pedregal de La Paz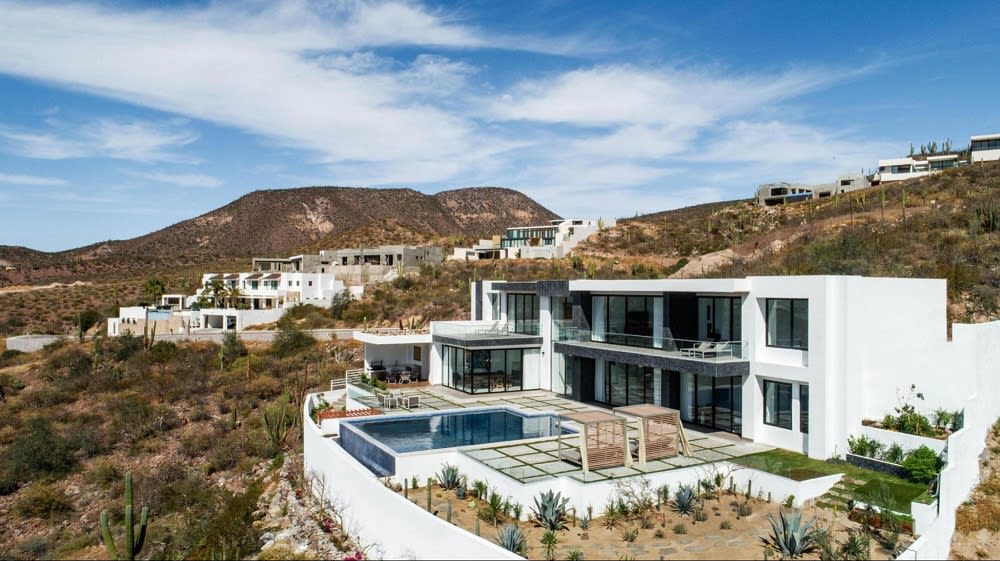 This gated community just a short drive from downtown La Paz is all about ensuring residents live the best, most luxurious life possible. It's a sanctuary, an enclave where the residential lots come with underground services, an HOA, and everything you could need to live the life of your dreams. The sports club has seven tennis courts, a soccer field, a gym, and a children's area.
Nestled above the Sea of Cortez, homes in Pedregal de La Paz offer unmatched views of the ocean. The atmosphere is laid-back and family-friendly but there are plenty of opportunities to get out, make connections, and soak in the culture. Find your next dream home in Pedregal de La Paz today.
Paraiso del Mar
Make your home in Paraiso del Mar, and you'll find more than just a house — you'll find a community that cares about each other and the land and species they live with. With a commitment to environmental sustainability and a thriving community that spreads to the residents of La Paz itself, Paraiso del Mar is an ideal place to call home.


While this enclave already has plenty of amenities, including a beautifully designed golf course, more are on the way: the founders plan for a full-service beach club, restaurants, and a second golf course, among others. There will also be a variety of neighborhoods with an array of home types available to suit anyone's tastes. Come for the adventure and gorgeous natural scenery, stay because you've found a family.
Puerta Cortes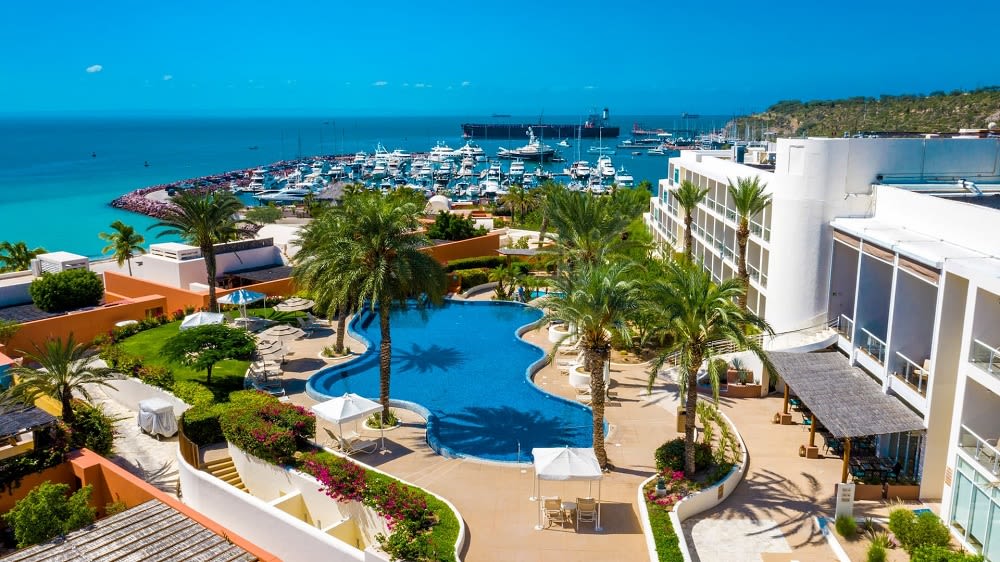 Image courtesy of Puerta Cortes
A growing, exclusive development in La Paz, Puerta Cortes is unforgettable, thanks to its stunning views of the Sea of Cortez, a one-of-a-kind golf course, and a marina that's among the best in the country. The nearly 550-acre resort has a full mile of beachfront so residents and visitors alike are never far from the gorgeous water.


Puerta Cortes' yacht club is highly exclusive and trips on its private boats allow customers to swim with sea lions and snorkel on protected reefs, among other adventures. With an eye toward preserving the gorgeous natural beauty of its surroundings, Puerta Cortes is an excellent investment in your future.
Find your perfect fit in Baja
The private communities that make up Baja California Sur invite residents to step into a whole new way of life. From the sand and surf to golf greens and peaceful villas, the communities have a little bit of something for everyone. Whether you have your heart set on Los Cabos or La Paz real estate, you'll need to partner with a savvy real estate agent who understands the unique offerings of each of the local neighborhoods. The
Coldwell Banker Riveras
team has been the top real estate team in Los Cabos for 20 years. If you want to learn more about La Paz, spend time exploring Los Cabos, or need more information on areas like Todos Santos, Pescadero, Los Barriles, La Ribera, Cabo Pulmo, the Riveras team is there to help. To get in touch with the Riveras team today,
contact them online
.